Preflight

Google Chrome
At this stage, you will need to use Google Chrome 19+ to see all of the functionality in this presentation. You will need to go to
chrome://flags
and activate the MediaStream and PeerConnection experiments.

Mozilla
You are running a Mozilla browser. While such browsers generally have excellent support for HTML5 features, this presentation has only been tested using
Google Chrome
. You should still be able to navigate the slides by using left/right arrow keys, but will currently see display errors and none of the demos will work.

Other browser
You are running a browser that has not been tested with this presentation. This presentation has been developed for
Google Chrome
. You may not be able to run some or all of the samples listed here.

MediaStream API: supported

MediaStream API: not supported
If things look good, press

→

to move on.
Press:
Space or

←

/

→

to move around

Ctrl/Command

/

–

or

+

to zoom in and out if slides don't fit

N

to show/hide speaker notes

H

to highlight important elements in code snippets
Implementing Video Conferencing in HTML5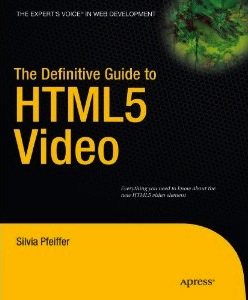 @silviapfeiffer
W3C and WHATWG video standards
HTML5 Accessibility Task Force
Google video accessibility contractor
Mozilla video accessibility contractor
Video research at CSIRO
WebRTC: Video Conferencing on the Web
Video Conferencing is hard: you need
Wideband codecs (voice and video)
Echo cancellation
Automatic Gain Control
Noise reduction/suppression
Dynamic jitter buffers
Error concealment
Network Traversal
P2P protocols
Session setup
Take a deep breath and don't worry
You only need to understand how to
set up video on a Web page
access local devices: camera, microphone
display a/v from local or remote peer
connect to remote peers
Plugin-free video conferencing in the browser!
Access local device and display: getUserMedia(), createObjectURL

<video id="sourcevid" autoplay>&lt/video>
<script>
  var video = document.getElementById('sourcevid');
  navigator.getUserMedia('video', success, error);
  function success(stream) {
      video.src = window.URL.createObjectURL(stream);
  }
</script>
WebKit:

webkitGetUserMedia()
window.webkitURL.createObjectURL()

Opera:

getUserMedia()
set video.src directly

Firefox:

window.URL.createObjectURL()

IE: not implemented
getUserMedia() Parameter Alert
NEW: Chrome20+, Opera Dev build, Firefox Mobile Dev


webkitGetUserMedia({audio:true, video:true},
                   onSuccess, onError);

OLD: Chrome19


webkitGetUserMedia("video,audio",
                   onSuccess, onError);
More details
Cool things to do with getUserMedia()
Bring in the remote user: PeerConnection
Establish a local stream (DONE)
Establish a connection: WebSockets, SIP, etc.
Add the remote stream to the local display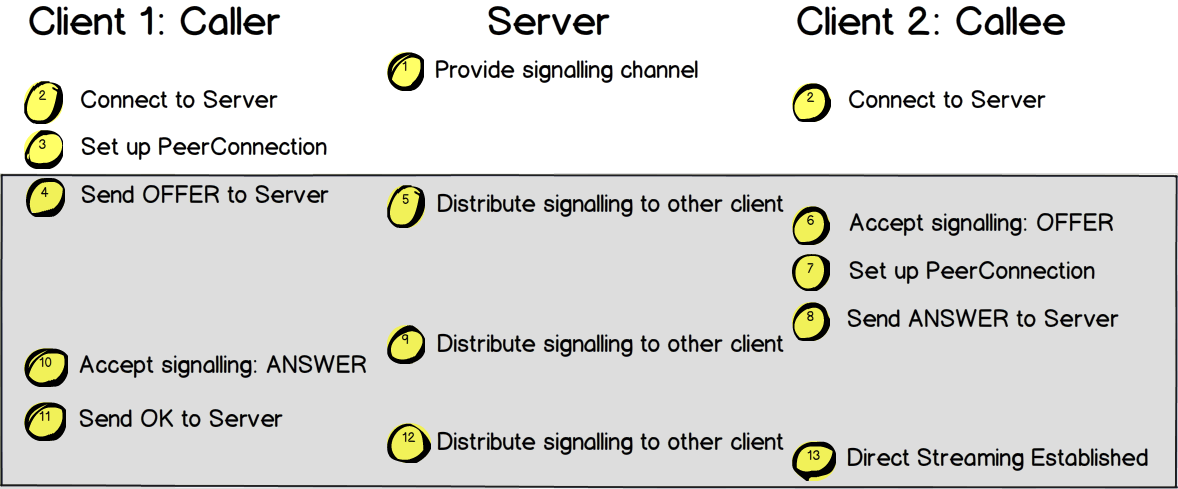 <video id="remotevid" autoplay></video>

var remotevid = document.getElementById('remotevid');

peerConn = new webkitPeerConnection("TURN localhost:12345", onSignal);
peerConn.onaddstream = onRemoteStreamAdded;
peerConn.addstream = localStream;

function onSignal(message) {
    sendSignalling(message);
}
function onRemoteStreamAdded(event) {
    remoteVideo.src = window.URL.createObjectURL(event.stream);
}
Demo: WebSocket Server, 2 Clients
Cool things to do with PeerConnection

Silvia Pfeiffer
blog.gingertech.net
silviapfeiffer1@gmail.com
@silviapfeiffer